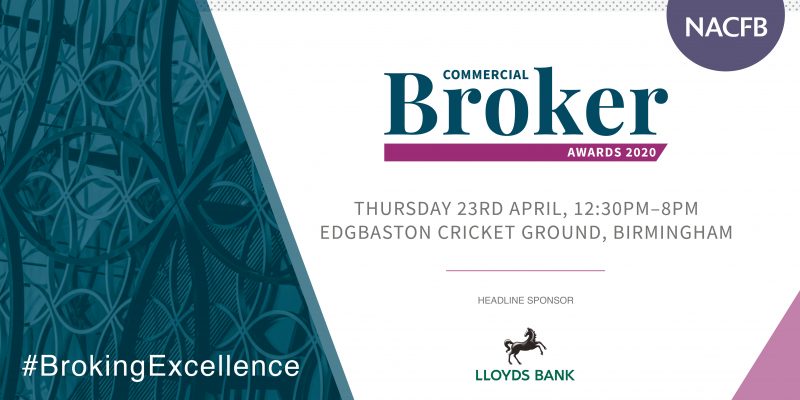 In addition to our two flagship events, 2020 sees us launch our inaugural NACFB Commercial Broker Awards, honouring the Association's best brokerages.
The NACFB Commercial Broker Awards are a new platform for national recognition within the intermediary market. Whether you are a sole trader broker or a large regional player, these awards are the ideal way to show your peers, clients and lender partners that you have both a track record of success and the skills and expertise to grow in the coming months and years.
WHERE AND WHEN IS IT?
The awards ceremony will be hosted at Edgbaston Cricket Ground in Birmingham from 12pm-8pm on Thursday 23rd April 2020.
HOW DO I ATTEND?The event is an opportunity for the NACFB to thank our broker Members. Standard tickets are priced at £125 per ticket and £1250 per table, but for a limited time only, NACFB broker tickets will be subsidised to just £50 per ticket or £500 per table with the exclusive discount code: NACFBBROKER60
Be quick, as spaces are strictly limited.
WHAT DO I GET?Each ticket includes a welcome drink on arrival, a three-course meal and half a bottle of wine per person.
As this is a social event, we would encourage you to bring colleagues, partners, spouses and clients.
HOW DO I ENTER FOR AN AWARD?
The NACFB Commercial Broker Awards are exclusively for the Association's brokers. NACFB brokers can enter into as many relevant categories as they deem fit. The judging process is equally weighted and open to brokerages of all sizes, the shortlist will be drawn on merit with the judges looking for demonstrable evidence of broking excellence.
WHAT ARE THE CATEGORIES?
There are fifteen award categories from which to select, ranging from sector specific awards to deal of the year and sole trader categories. The full list, with submission forms can be found here. WHEN IS THE DEADLINE TO ENTER?The deadline for all entries is 5pm on Friday 7th February 2020.