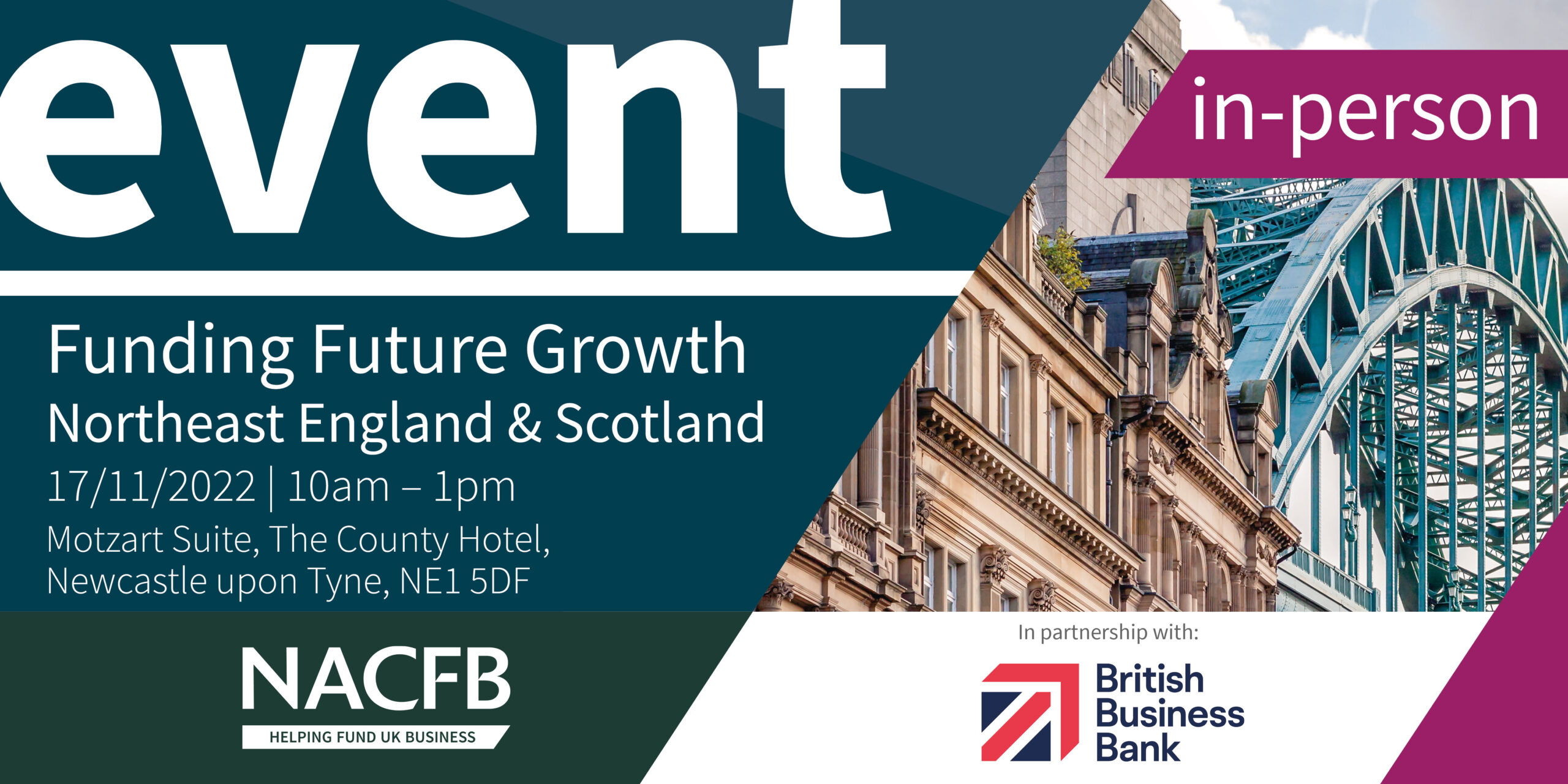 Funding Future Growth: Northeast England & Scotland
NACFB Members are invited to attend a new event, part of the Funding Future Growth series, that focuses on SMEs in the Northeast of England and Scotland, their access to finance and the role of the broker.
This free, in-person event is being held in partnership with the British Business Bank and will feature SME lending insight from both UK regions, roundtable networking with a select number of Patrons, and the opportunity to discuss the FCA's new Consumer Duty requirements with the NACFB's head of compliance, James Hinch.
The morning begins at 10am with coffee and networking. At 10.45am, NACFB managing director Norman Chambers kicks off the live panel session with a brief update on the work the Association is currently undertaking to support Members, before introducing the experts from the British Business Bank; both senior managers, Shaun Fooy represents the Northeast, and Barry McCulloch looks after Scotland.  They will share and analyse the latest lending data from the regions and discuss the challenges and opportunities that SMEs face. Members are invited to ask questions, discuss and debate the issues with the experts.
After the panel session concludes a light buffet lunch will be served and Members can join roundtables hosted by regional representatives from a selection of our Patrons lenders. These informal sessions will provide Members with the opportunity to find out more about the Patrons' products, understand the services available to brokers, and learn how these Patrons are helping SMEs in the Northeast and Scotland to access the finance they need to survive and grow.
The following Patrons will be in attendance: Allica Bank, Cambridge & Counties, Funding Circle, Precise Mortgages, LendInvest, Lloyds, Shawbrook, Together, Aldermore and Haydock.
Alongside the roundtable sessions, the NACFB's head of compliance, James Hinch, will be on hand to discuss the FCA's new Consumer Duty regime. In particular, he will outline the NACFB's comprehensive package of support available to Members, as well as answer any other regulatory questions Members may have.
The event closes at approximately 1pm.
As part of the event a free lunch will be provided, if you have any dietary requirements please do let us know via events@nacfb.org.uk
Sold out!